WTC / Deutsche Bank Building Coming Down Soon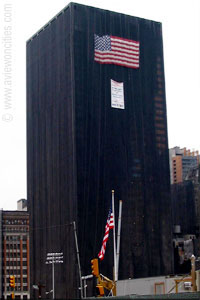 The Deutsche Bank, at 130 Liberty Street, stood right across the Liberty Street from the World Trade Center complex. The 40 story building was originally the Bankers Trust Building. When Bankers Trust was taken over by Deutsche Bank, I think in 1999, the name of the 130 Liberty Street was changed.
There was a Chinese restaurant on the second floor of this building, which served a halfway decent menu of Chinese-American cuisine. We used to go there once in awhile.
On September 11, 2001, this building, across the street from the 110 story Two World Trade Center, suffered a lot of damage from broken windows and the like. There was no irreparable structural damage, but the broken windows and other exterior damage left the interior of the building exposed to the open air -and rain - for a very long time, which allowed a great deal of mold to grow inside. " Toxic Mold " is one of the major phobias these days, grossly hyped by trial lawyers and paranoid types.
So, to make a long story short, though this building was and is repairable, the decision was made a long time ago to tear it down. Because of the " Toxic Mold ".
The building has stood a sad watch over the WTC site for the past four years. The black shroud they put over it has made it look even more funereal. The photo you see here is not current, but it gives you an idea of what the Deutsche Bank Building has looked like for much of the time since 2001.
Deconstruction of this building begins in earnest in
March 2006
. There's a lot of detail in this link, if you are interested. The demolition work will last until 2007.
Most people in the area want to see this sad building come down, but I'm conflicted. My instinct is to preserve it. It survived 9/11, and that reason alone makes me want it to stand forever. But down it will come.